Trends
The concentrations of the majority of air pollutants have systematically decreased over the past decades in Flanders.
This is the case for gaseous pollutants (first figure below) and particulate pollutants (second figure below). In these figures, the percentage drop in the annual averages at an urban monitoring station were calculated with reference to the first year of the measurements. For benzene, ozone and benzo(a)pyrene, the average of all Flemish stations was used. For lead, we used the values of a measuring site in a hotspot area near a non-ferrous company.
The trend for most gaseous pollutants is favourable. It is striking that ozone pollution, characterised by ozone peaks, has markedly decreased in recent years (light green line in Figure 1). Local and European measures for the reduction of ozone precursors are therefore successful. However, increasing emissions in the northern hemisphere with, amongst others, the expansion of Chinese industry, result in increasing ozone background concentrations (dark green line in the figure below). Measures on a global scale are therefore required.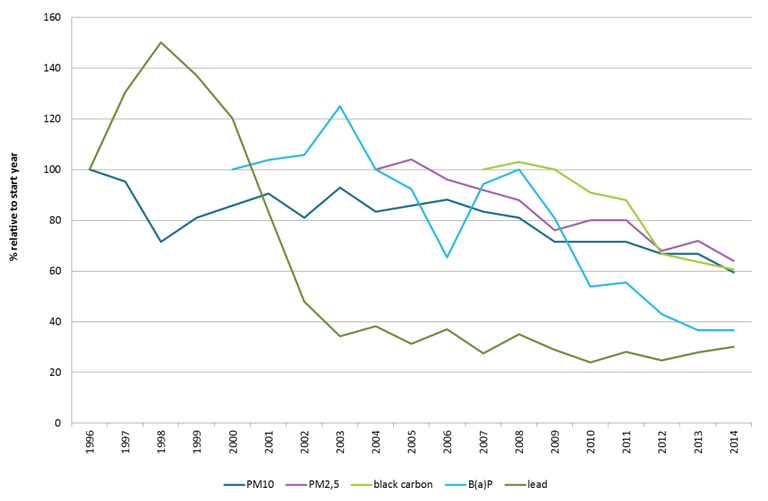 Particulate pollutants have also dropped since the year in which the respective measurements started. The drop is most pronounced for PM2.5 and black carbon. The trend for the PM10 concentration and benzo(a)pyrene is slightly more erratic (Figure 2). Intensive clean-up operations resulted in a marked decline in lead concentrations in the vicinity of a non-ferrous plant. In 2014, the concentration of lead in the ambient air amounted to only 6 % of the level in 1978.
Flemish environmental policy, backed up by strict European legislation on emission limitations, is certainly producing results. The data from 2014 demonstrate, however, that air concentrations of a number of pollutants must be reduced further in order to meet all legal provisions. Control measures should prioritize nitrogen dioxide and ozone. The European targets for these pollutants were not met throughout Flanders. Attention should also continue to be paid to particulate matter. 2014 was a good meteorological year with only a few smog episodes. During periods of stable weather conditions, our own emissions get trapped in the lower layers of the atmosphere and the particulate matter concentration may rise significantly on certain days. The Flemish Government has approved action plans to tackle air pollution from NO2 and PM10. In addition, measures on a global scale are needed in order to fulfil the long-term objectives for ozone.