TOPSOIL maps salinization in coastal- and polder area in Flanders
Jul 25, 2017
From 18 July onwards Flanders Environment Agency (VMM) will investigate the salinization of the groundwater in coastal- and polder areas in Flanders. The investigation will be taken airborne, as all the information required will be collected during helicopter flights.
The role of Flanders Environment Agency
Within TOPSOIL Flanders Environment Agency focusses on salt water intrusion and subterranean buffering of excessive precipitation. Focus areas are the coastal- and polder areas of Flanders, mostly situated in the West of the region. Climate change affects these subjects in various ways. On one hand there will be a greater need for freshwater due to predicted summers with longer periods of drought, but there will be less precipitation. On the other hand due to rising sea levels, freshwater reserves in polder areas will diminish and salinization in the area will increase. Knowing the exact share of freshwater and salt water in the area is of major importance, for farmers as well as for future extraction of drinking water.
Partition between salt- and freshwater has already been mapped, during the 1960's and 1970's. But as climate change continues to have  a negative impact on freshwater reserves a new investigation about the actual levels of salinization of the groundwater in the area is inevitable.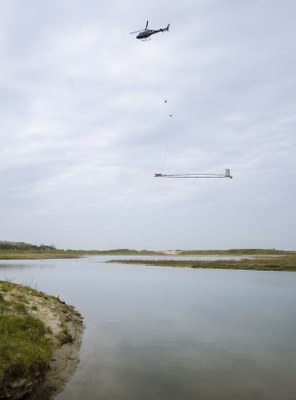 How do we measure?
A helicopter will fly systematically along lines, separated 250 meters from each other. Underneath the helicopter a hoop-shaped probe (30m/11m) is attached. The helicopter will fly at low altitude, as measurements can be done best when the probe is around 30m above the ground.
By sending out electromagnetic waves information can be gathered about the conductive capacity of the subsoil. By processing the information VMM gets out of this investigation the salinization of the groundwater in the coastal- and polder area of Flanders can be deduced.
More information?
Flights have started on July 18 and will go on for a period of three weeks. 
Mind!
These flights can only take place when weather conditions allows it. Strong winds, fog or storms are the main reasons the helicopter won't take off. Therefore, the proposed flying schedule can change. If you want to keep informed about the precise dates of these flights, please take a look at 'https://www.vmm.be/water/projecten/topsoil'.