Life VAQUUMS project successful finalized
Aug 12, 2021
On Friday 4 June, the digital closing event of the LIFE VAQUUMS project took place. 80 interested parties gathered to find out about the results and the findings of the project. There were many interesting questions and enthusiastic reactions from the participants.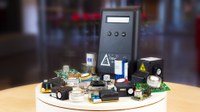 The LIFE VAQUUMS project started about four years ago with the support of the European Commission. The VMM, the National Institute for Public Health and the Environment (RIVM) and the Netherlands Organisation for Applied Scientific Research (TNO) joined forces to test the quality of cheap air quality sensors.
During the project, we selected 8 sensors for fine dust, 5 for nitrogen dioxide and 5 for ozone based upon a literature review and the opinion of an expert panel. These sensors were made ready for use, after which we tested them in the lab and also for more than a year in the field at a reference measurement site in Antwerp.
Do you want to get started?
The project yielded a unique dataset, which enabled the researchers to assess the quality of the sensors in various areas. This provided a wealth of information:
We were able to gain a lot of practical experience during the project. The lessons which we learned from this have been incorporated into our guidelines for the correct use of these sensors. 
Consult the guidelines, road map and project outputs
Rounded off in style
With these final results, we were able to round off LIFE VAQUUMS in style, knowing that we can offer support to anyone who now wants to get started on their own. Have a lot of fun with the measuring!