Climate report 2015
Oct 27, 2015
To what extent is climate change already visible in Flanders and Belgium? What are the expectations for the future? The answers to these questions can be found in the MIRA Climate Report 2015, which was compiled in collaboration with experts from the University of Leuven, the Flemish Institute for Technological Research (VITO) and the Royal Meteorological Institute (KMI).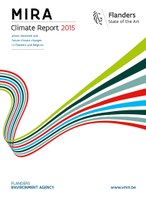 For most climate parameters (such as temperature and precipitation), clear trends are already surfacing.
Using a new generation of fine-scale climate models, we examined, for our region, the spatial differences in climate change that could emerge within Flanders and surroundings. Three new climate scenarios were derived (high, medium, low). Together they provide a picture of the potential climate changes for Flanders and Belgium by 2030, 2050 and even 2100.
Climate change can only be slowed down by reducing global greenhouse gas emissions. With the right actions and strategies, we can mitigate and, in some areas, even roll back the effects of climate change.