Traffic
Traffic increases the local NO2-concentrations. Measurements reveal higher concentrations in towns along certain access routes and, above all, in street canyons.
A motorway has a strong impact on air quality as well. The concentration of NO2 drops off sharply when the distance from the motorway increases to 100 meter.Traffic-oriented measuring stations show a strong correlation between traffic and black carbon, nitrogen dioxide and nitrogen monoxide. The situation is less pronounced for particulate matter and there is no correlation with traffic for volatile organic components and ammonia.
Some research was done on the presence of ultrafine particles (UFP). It appeared that the measurement locations showed a large variation. We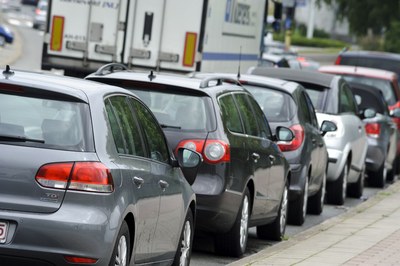 detected that the diurnal variation of the number of particles corresponded well with the intensity of traffic. On weekdays, the number of particles exhibited peaks during the morning and evening rush hours. In the weekends, the number of particles was on average lower than on weekdays, and only a peak in the evening was observed. A link could be established between the measured number of particles and the atmospheric concentration of traffic-related pollutants such as NO, NO2 and black carbon. Traffic is therefore a major source of ultrafine particles.
VMM was project manager of Joaquin, a European project aimed at the improved mapping of the air quality in Europe. One objective of this project was to provide the models with a number of new, more health-related pollutants such as elementary carbon and ultrafine particles. Other objectives included the preparation of policy scenarios, the mapping of sources, and the determination of the distribution of air pollution across local and regional boundaries. This resulted in maps showing the emissions above North-West Europe. They revealed the important contribution of traffic to pollutants such as NOx and elementary carbon. The project also taught us that the own contribution to PM10 in Flanders still amounts to 18-23 %, and for smaller components such as elementary carbon, to as much as almost 50 %. Exhaust emissions in particular are a source of elementary carbon.