Flanders Environment Agency (abbreviated VMM) is an agency of the Flemish government working towards a better environment in Flanders.
Water, air and the environment. These are the three domains in which VMM is active. Within these three domains we have a wide range of responsibilities.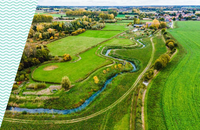 Blue Deal Flanders
An ambitious plan to combat water scarcity and drought through collaboration.