SCAPE makes coastal areas resistant to climate change
Coastal landscapes are highly sensitive to the water-related effects of climate change. It is important to investigate how water management can improve the resilience of landscapes. The SCAPE (Shaping Climate change Adaptive PlacEs') project seeks solutions to this problem. VMM is co-responsible for an innovative redevelopment of the Zwin area.
SCAPE: what and why?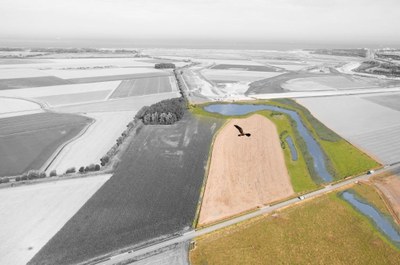 To make coastal areas resistant to the effects of climate change, it is important to search for solutions at European level with all partners involved. SCAPE seeks solutions to arm coastal areas against changes in our climate. Silting poses a serious threat to the tides and various renovations are intended to address this problem, for example in the Zwin area.
Purpose of the SCAPE project
SCAPE aims to design water management solutions to better protect the coastal regions in the project area against floods and extreme rainfall.  The solutions are based on a landscape-driven design (LDD): the landscape allows for proper water management, rather than solutions in the form of sewers, weirs and water basins. The outputs of the project are:
one LDD strategy for combining water management solutions.
one LDD method for providing partners and target groups with guidelines.
six pilot actions to promote the use of landscape policy in various coastal landscapes.
SCAPE in Europe
International cooperation facilitates the creation of solutions to common problems. The SCAPE project is funded under INTERREG 2 Seas, a European programme that promotes cooperation among regions from different countries.
Project type : INTERREG 2 Seas Mers Zeeën
Duration : 01/09/2016 - 31/08/2020
 Project partners

Belgium

Stad Oostende

FARYS

Provincie West-Vlaanderen

Vlaamse Milieumaatschappij

United Kingdom

Kent Couny Council

Brighton & Hove City Council

The Netherlands

Gemeente Middelburg

Waterschap Scheldestromen